Owner/Operator
I was 16 when I stumbled across a PBS documentary on glass artist Dale Chihuly. I was completely mesmerized. It was the most amazing thing I'd ever seen. My very awesome mom saw my excitement and decided that we were going on a road trip to the Corning Museum of Glass so I could watch artists blowing hot glass, live and in-person. We did. I did. And that's when I knew, I was going to be a glass blower.
The Road to Mastery
In general, people don't realize the amount of effort it takes to gain any tangible proficiency in the craft of making glass.
There is no shortcut. Great training and relentless practice is the only way to become a proficient and accomplished hot glass artist. How much training? How much practice? Malcolm Gladwell says at least 10,000 hours. John K. Hayes says at least a decade. I'm living proof of the truth of their research!
I spent 12 years studying and learning the techniques of the most technically capable glass blowers – the old masters of Murano. That technical precision and the exacting level of proficiency gave me the foundation that's allowed me to advance quickly in other styles and aesthetics of hot glass, and lead to creating my own body of work.
I've worked with and studied with some amazing artists. While learning how to make goblets with Italian lampworking master Emilio Santini in the torch studio, Maestro Elio Quarisa was teaching goblets in an adjacent hot shop. Intrigued, I would go over to watch him work whenever I could. Watching Elio work spurred my interest in the hot shop.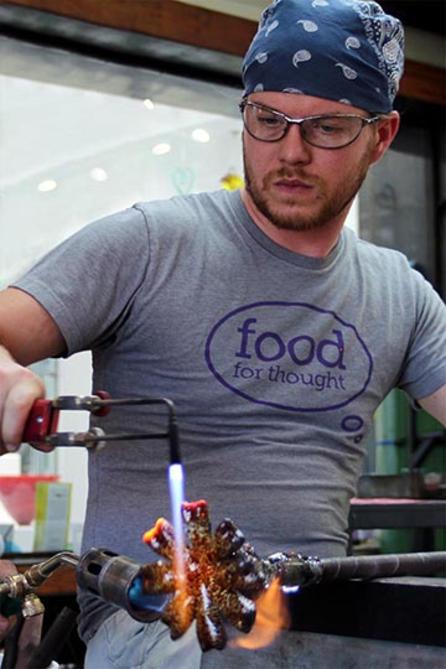 When I was in the glass program at the Bowling Green State University of Ohio I again had an opportunity to work with Elio. By that time I was at a level where I could lend a hand. Although I was still a novice in the hot shop, he made me feel valuable and was very encouraging.
A Personal Touch
While Elio was working, I told him in my best Italian (I'd been studying the language for a year) that I was getting married that August. Over the course of a few goblet demos, he agreed to make our champagne flutes!
That summer (2009) the Glass Art Society (GAS) Conference was held in Corning. While walking toward the museum, Elio shouted his congratulations to me and my soon-to-be wife on our upcoming nuptials. It was the last time I saw Elio before his passing.
Elio had a profound effect on my life. I'm sure that I would not be where I am now if it weren't for Elio's generosity and his kind-heartedness in teaching the Venetian techniques to preserve this history that I am now a part of professionally.
A Glassblower's Most Important Quality
Patience. Without a doubt, patience was the hardest thing to learn. The ability to work on a project, to focus, and to work hard even when things aren't going well. Patience is so important because there is so much that is beyond your control. You have to accept that glass is glass, and glass is going to do what glass is going to do.
It's A Dance
When we work in the studio there's a lot of non-verbal, physical communication. There's a cadence. There's a rhythm. There's a timing.
Everything we do has to happen at a precise moment. Every moment counts. Missteps jeopardize the work. Missteps can cause accidents.
Art Has Many Names
I look at cooking as an art form. That's probably why I like it so much. That, and the fact that my wife and I are foodies. I'm constantly looking for interesting recipes so I can create a new meal for us. I also like to bake bread. For one thing, it tastes so much better than the mass-produced stuff you buy at the store, but I suspect it's the challenge of trying to create the perfect loaf that keeps me hooked.
When Food Meets Molten Glass
The Melting Point's Masterclasses for established artists are an important part of what we do here. Glass artists come from all over to work with the nationally and internationally renowned guest instructors we bring in. Jordan and I like to add to the festivities by preparing one of the evening meals – a massive stir-fry on a large slab of molten glass served with a smidge of our comedic flare.
My New Work
My wife, who has an environmental science background, is passionate about ornithology. Consequently, we're constantly looking and watching birds.
One day, while working on a new piece, I was looking at the beautiful colors that the carvings exposed, I realized that it had the form of a bird.
It was serendipitous. I listened to the universe and ran with it; creating a line of sculptural objects that express my personal aesthetics.
I love the process of making glass. Sitting on the bench with some hot glass on the pipe and shaping it, is the absolute greatest thing in the world for me.
We have a really wonderful mix of things we do here in-house. I'm very proud of the fact that we create 80% of the glass art that is shown in The Melting Point's gallery.
As employees, we're expected to work on our own artistic endeavors. We're encouraged to be artists, to create new bodies of work, and to explore the different expressions of our art
I love doing custom work; working with clients – interpreting their vision and bringing their idea to life.
As I always tell them, if you can dream it, we can probably make it. Let's talk!
Have a Question?
Fill out the form below and we'll get back with you within one hour during business hours.